Powerscreen to Exhibit at CICEE, China

Powerscreen has been powering the industry since 1966 and is one of the world's leading providers of mobile crushing, screening and conveying equipment. The company will exhibit machines from its fleet at Booth S4-11 at CICEE 2021, China, where Powerscreen team and distributors will be available between May 19th and 22nd.
Commenting on the forthcoming line-up, Martin Conway, MP China sales director, said, "Powerscreen has developed and maintains an aggressive position in mobile crushing and screening in China and globally. The industry has always looked to Powerscreen to present the future of crushing and screening and we proudly put customers first in providing a complete materials processing solution. Responding to customer and government demand for more environmentally solutions we will launch our Hybrid range with brand new models arriving to China through 2021. This is the first time Powerscreen will attend CICEE with the biggest fleet in Changsha, Hunan Province because Hunan is an important territory of strategic development for Powerscreen. Powerscreen has seen significant business growth in China and this is set to continue with significant government investment in recycling and infrastructure projects. Powerscreen experts look forward to meeting visitors to present the benefits of choosing our machines."
Premiertrak 400X Jaw Crusher
The Powerscreen® Premiertrak 400X range of high-performance primary jaw crushing plants are designed for medium scale operators in quarrying, demolition, recycling and mining applications. The range includes the Premiertrak 400X with hydraulic adjust and the Premiertrak R400X with hydraulic release. User benefits include track mobility for a quick set-up time (typically under 30 minutes,) hydraulic crusher setting adjustment for total control of product size and crusher overload protection to prevent damage by uncrushable objects.
The Powerscreen® 1000SR is built around the globally successful 1000 Maxtrak model and features a re-circulating conveyor and a double-deck post-screen to provide a complete crushing and screening process on a single chassis. The machine is designed for direct feed applications without pre-screening on clean rock. At its heart is the Automax® cone crusher which provides excellent reduction and product cubicity for the production of high-quality aggregate and sub-base material. Hydraulic release capabilities are designed so that any uncrushable material entering the chamber is safely discharged. Suitable for secondary and tertiary applications, the 1000SR can produce up to three products when oversized material doesn't require re-circulation to the crusher.
Chieftain Screener Chieftain 2100X 3 Deck
The Powerscreen® Chieftain 2100X is designed for medium to large scale operators who require large volumes of high specification products. The Chieftain 2100X is the largest model to feature a high capacity hopper, belt feeder and radio-controlled tipping grid. A key feature is the patented hydraulically folding recirculating conveyor on the 3 deck version, eliminating the need for a crane on site and a 2 bearing screen with adjustable screen speed and amplitude with hydraulic screen angle adjustment. User benefits include a quick set-up time (typically under 30 minutes) with hydraulically folding conveyors and track mobility, class leading stockpile discharge heights with a drop-down tail conveyor and hydraulically raising conveyor to aid screen media changes. The biggest advantage is that Powerscreen has developed a hydraulically extended auxiliary conveyor which incorporates a telescopic head section to aid recirculating with crushers in the Powerscreen range.
Powerscreen Hybrid Range
The Powerscreen® Hybrid range has been designed to give customers alternative energy options to operate their range of crushing, screening and conveying equipment. The Hybrid Machine range has been dramatically enhanced to include more fully electric crushers and screens as well as models powered by innovative combinations of diesel and electricity. These options let you choose which fuel to use, depending upon cost, location and availability. Hybrid machines will be of special interest to those who operate in an area where electricity is more cost effective than diesel fuel, where diesel engine noise is unwanted or on sites where electricity is the preferred energy source.
For more information on Powerscreen® crushing and screening products or Customer Support please contact your local distributor. Details can be found at the informative new website
www.powerscreen.com.
Network with Powerscreen:
Follow us on WeChat by scanning QR code: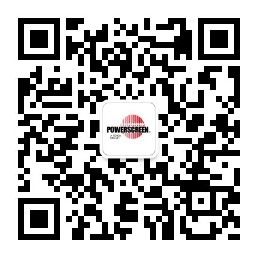 Follow us on DouYin by scanning QR code: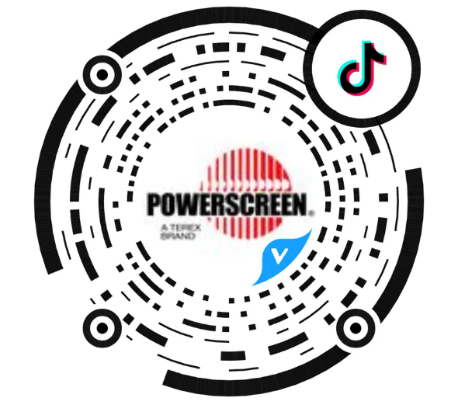 About Terex:
Terex Corporation is a global manufacturer of lifting and material processing products and services delivering lifecycle solutions that maximize customer return on investment. Major Terex brands include Terex, Genie, Powerscreen. Terex solutions serve a broad range of industries, including construction, infrastructure, manufacturing, shipping, transportation, refining, energy, utilities, quarrying and mining. Terex offers financial products and services to assist in the acquisition of Terex equipment through Terex Financial Services. More information about Terex is available on its website: www.Terex.com, and on its LinkedIn page -- www.linkedin.com/company/terex and Facebook page -- www.facebook.com/TerexCorporation.