Trakpactor 320SR road building project in China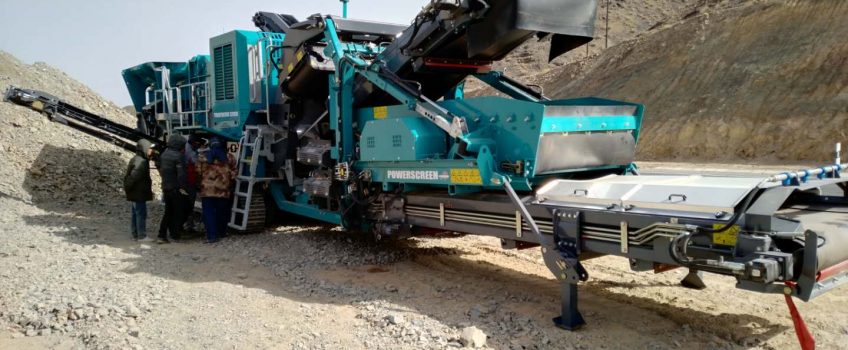 In April 2020 Powerscreen and local dealer Xuzhou Guangshenghang, installed a Powerscreen® Trakpactor™ 320SR in the north central Chinese province of Gansu to help expand the provincial highway of G215 at Jiuquan city.
The 300, 000 m3 of raw weathered iron ore feed material has a maximum piece size of approximately 300mm. For this part of the project, 99% of the material is crushed down to 110 mm minus and is mainly used as the laying material of the subgrade. After the subgrade construction is completed, the construction material of the water-stable layer will continue to be supplied by the plant.
3-STEP COMMISSIONING
STEP 1) Machine Delivery
The machine, installed by the local Powerscreen China team, runs for 10 hours per day with a capacity of 250-300 tons per hour. The reliable and highly efficient crushing ratio, together with the low machine operating costs are the main reasons that the customer chose Powerscreen for a second time.
STEP 2) Customised Training on Customer Site
– How to Operate SAFELY
– How to Maximise Output
– How to Maintain Your Powerscreen
"Safety First" is a core value at Powerscreen, in China and across the world. When machines are delivered, Powerscreen China service engineers provide the customer with a week-long, customised safety and operator training course at their own job site. The service engineer trains operators on the continuous use of the lock out / tag out safety process to ensure their own safety and that of the machine whenever operating, inspecting, repairing or carrying out maintenance.
STEP 3) Handover and Follow-up
Powerscreen is committed to providing complete solutions, identifying problems in a timely and effective manner and providing customers with more optimized operating operations. According to Sales Director, Martin Conway, "during the commissioning training, our team found that 80% of the feed material was fines of less than 110 mm. Our technical engineer immediately communicated with the sales team and provided suggestions to optimize the operation. The customer agrees with the recommendation of adding a heavy-duty Warrior 1400X to pre-screen the material before crushing. This means the Trakpactor 320SR will not only increase its processing capacity, but also reduce further an already low running cost."
Conway continues, "the customer looks forward to adding the new screener to their expanding Powerscreen fleet in the coming months and knows that they have the full support of the local dealer Xuzhou Guangshenghang, with back-up provided by Powerscreen China sales and aftersales teams anytime they are required."
Dealer Xuzhou Guangshenghang Road Engineering co., LTD is a comprehensive company integrating road construction, equipment leasing, pavement equipment sales, parts sales and equipment maintenance. With a company motto of being "customer-focused & product-orientated," attentive customer service provided by a knowledgeable factory-trained team helps customer businesses succeed and grow.