ONYX Corp. more than double annual output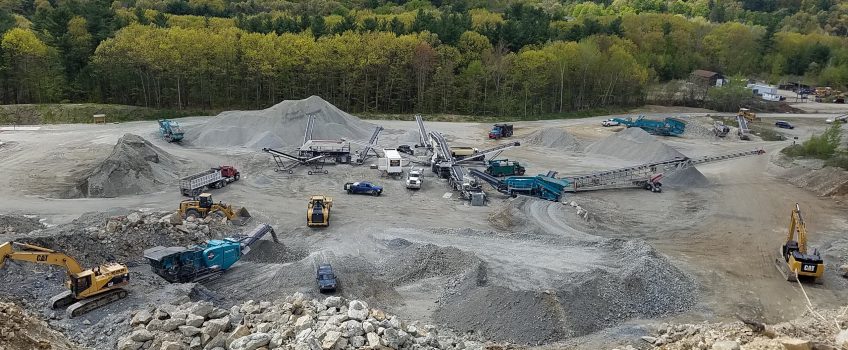 Onyx Corp. based in Massachusets, USA is a company on the rise with a wide product line serving customers in aggregates and organics; site work and civil infrastructure; horticultural services; and landscape construction.
Started in 1980 by John and Stacey Durkin, Onyx Corp. began as a trucking company under the name Onyx Transportation. The company expanded through the years and in the early 1990s grew to include a 30-acre sand and gravel pit, and quarry operation. In 2011, the company became known as, Onyx Corp representing the three business areas it operates in: Materials/Trucking; Excavation and Landscape Construction.
John Sr. and Stacey, along with their sons, play an active part in the day-to-day operations of the business which currently employs more than 90 team members, many of which have been with the company for more than 15 years. The company views its employees as an extension of the family and this is reflected in the pride and dedication evident in their everyday work.
Onyx Corp. recently worked with local dealer Powerscreen New England on a large scale new plant installation including two large Powerscreen machines and three Cedarapids plants.
Powerscreen Premiertrak 600 pre-screen jaw crusher
Powerscreen Warrior 2100 triple shaft scalper
Cedarapids CRC450X cone plant
Cedarapids CRC380XHLS cone/screen plant
Cedarapids CRS620H screen plant
"Our sales were far exceeding our production at the plant, so we had to upgrade the equipment and expand our product line as well," said John Durkin Jr.
The company made a decision to invest in equipment that would help it meet its production goals. "We had to step up our game," Durkin said. "We bought a complete new plant. We were one of the first in the United States to use the (Premiertrak) 600 jaw plant. Now we can do 550 to 700 tph, where before we could only do up to maybe 250 tph. The plant's production went from 150,000 tpy to almost 400,000 tpy within a year."
One of the benefits to the new range of equipment is the fact that all production matched. "We didn't want to have a hodge-podge of equipment anymore," Durkin said. "It makes our efficiency better, and our parts availability better having only one vendor."
Durkin said the transition to the new plant was not without its challenges. "We had to re-grade the site to allow for the new equipment to be installed," he said. "We were on an accelerated schedule. We had to put enough material on the ground to get us through the install, which we did mid-year. It then took 30 days to set up the new plant and get back up and running."
The install also required site work such as running electricity to the (Cedarapids) plant and installation of a dust-suppression system, not to mention the obligatory MSHA inspection. "Everything was very well orchestrated," Durkin said. "And I can't say enough about the help we received from Powerscreen of New England."
The plant is located close to houses and industrial manufacturing, but Durkin feels like the new plant installation improves its commitment to the community. "…Our emission situation is better and frankly, the new equipment runs quieter, so that helps with noise too," he said.
The plant now produces 1-1/2-in. crushed stone, 1-1/2-in. dense graded base, 2- to 4-in. crushed stone, 3/4-in. crushed stone, ¾-in. graded base, 3/8-in. crushed stone, 3-in. minus base, 6-in. minus crushed stone, 6-10-in. crushed stone and stone dust/fill, among other products.
"We are now able to better serve our existing customers and we have earned a few new ones too," Durkin said.
*Reproduced with kind permission from Rock Products magazine.*
Read more on Rock Products magazine:
http://rockproducts.com/features/19436-stepping-up-their-game.html