'Timor, the Merrior' at Terex Dungannon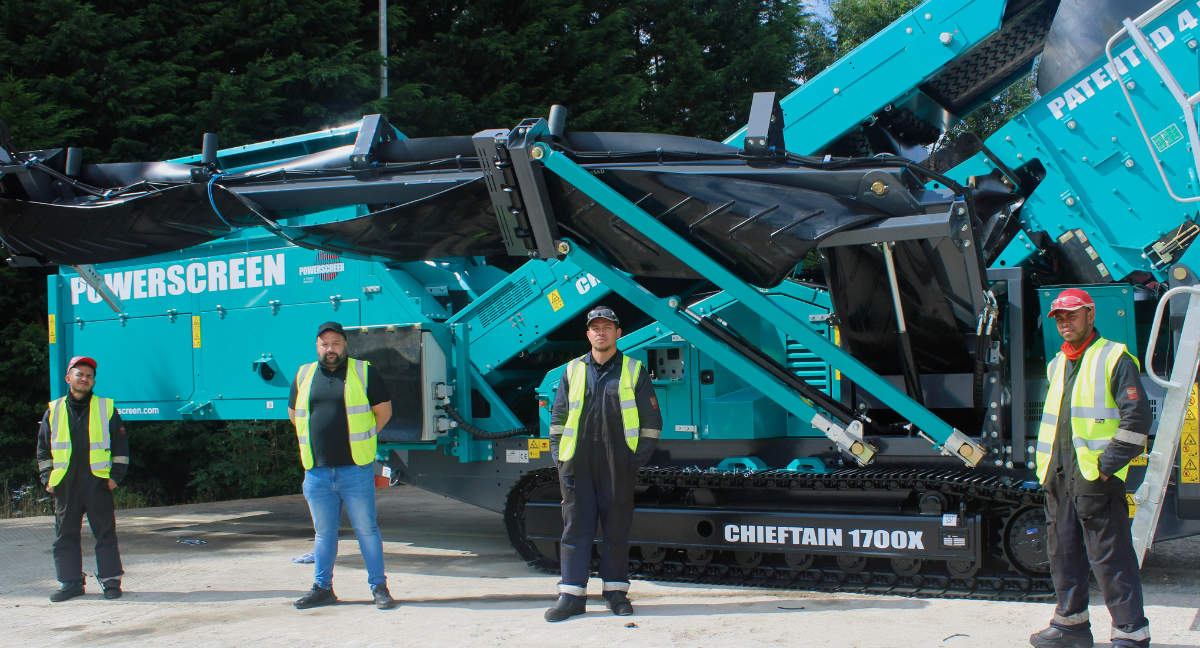 Three recently hired team members at the home of Powerscreen, Terex Dungannon, — João Vaz, Zeginho (Gino) Páscoa, and Julião Xavier — originally from East Timor, have taken part in a podcast with Talal Jomar, Sales Administrator at Terex Dungannon to share their experiences on moving from East Timor to Northern Ireland and their recent employment at Terex.
Listen to the Podcast here: https://www.buzzsprout.com/1780176/8886516
East Timor is an island country in Southeast Asia, a place of outstanding beauty, which is located about an hour north of Australia. A small country with a population just over a million people, East Timor has a tropical climate, hot all year round, with a rainy season from December to March and a dry season from June to September. One of the first differences the new starts realised after moving to Northern Ireland was that 'it is really cold' in comparison!
The cooler Irish temperatures and damper climate does not impact the morale of the three new Terex recruits, however. Our Timorese colleagues have historically come to this area to work through their eligibility for Portuguese citizenship and hence access to the European Union. They are thrilled to have secured employment at Terex Dungannon with safety and on-the-job training, respectful and supportive team supervisors and friendly colleagues cited as the main reasons why they are happy to be working for here.
Gino moved to Northern Ireland with his parents in 2011, and since he was just 15-16 years old at the time, he went to school and college, gaining work experience translating for the East Timorese community living in Northern Ireland. He decided that he wanted to pursue a career, and after hearing João talk about his welding employment with Terex, enquired about the possibility of a position, "I'm a person who likes practical stuff. I heard João talk about it (his job) and asked if he could speak to someone to let them know I would be keen to work for Terex. I was so happy when HR called me for induction, saying they did not need qualifications, just a good attitude and to be keen to work."
João explains that he was delighted to see the Terex Welding Academy as a chance to get a foot into manufacturing without having qualifications or experience, "I was really shy, but when I saw the Welding Academy on Facebook, I applied through the messenger. I was really looking for this type of job and happy to get in here—this is my goal and I wanted this type of job so bad! To me this is the best job."
Gino has gained a lot of skills from being a part of Terex Dungannon's training academy, "I have learned a lot that I haven't been able to at other factories. I did training (alongside) other Terex team members, they taught me a lot of theory, how to work safely. I had no experience of welding before, but I love it and enjoy it. Even if my supervisor asks how I'm doing, the only words I say is that I am enjoying it."
All three agree that they have a supportive workplace at Terex, with Gino saying, "At first I thought everyone would have been strange. In my hall I was the only East Timorese person, but everyone was friendly. I am so happy, have more confidence coming here and working… supervisors… line leaders… they are all friendly."
When asked whether they would recommend Terex to other friends, all three begin to laugh saying that their friends are coming to Terex. João says, "I just tell people to go for it. East Timorese people wouldn't be afraid of coming here as they know we are here and are enjoying it. When they ask if they need good English, I explain that just a basic understanding of English is required. Everyone who asks about the interview, one thing I tell them, don't worry, one thing Terex will ask you is that if you commit to it (your job) and are willing to work with a good attitude, they will provide training."
When asked about what was the favourite thing about their job, all exclaimed that they really enjoy welding, although there are many other opportunities open to candidate too. Julião also says the supportive network is a key benefit, saying that Shaun Donnelly (his supervisor) fosters a good team spirit of helping each other out. Gino adds that the hours go by quickly as he is focussed on what he is doing and enjoys his job, and he appreciates that he is provided with equipment and clothing that protects him whilst at work.
Shaun Donnelly, Production Supervisor at Terex Dungannon said, "We are delighted to see that our new East Timorese recruits have settled well into their new positions here at Terex Dungannon. While they have expressed how they have benefitted from gaining employment at Terex, it is Terex that is benefiting from having these hard-working, respectful and appreciative new recruits as part of our team."
It certainly seems to be the case of 'Timor, the Merrior' at Terex Dungannon! Thank you to João, Gino and Julião for sharing your experiences and well done to the team at Terex Dungannon for mentoring, training and most importantly, making our new East Timorese recruits feel part of our team.
Click here
to listen to the full podcast.