Seamus O'Neill celebrates 50 years of service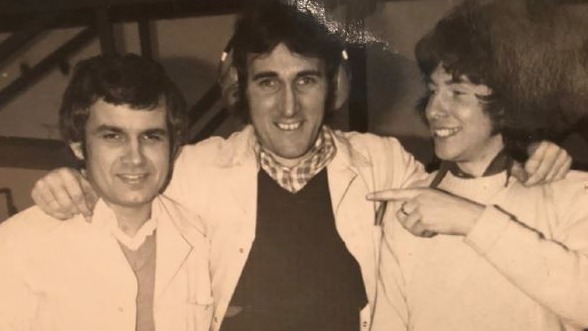 Congratulations to Seamus O'Neill, Training Manager at our Dungannon factory, who recently celebrated an incredible 50 years' service.
Seamus (Seamie), started on 19 January 1971 in Ulster Plant, the original name for what later became the Powerscreen business. He was a hard-working 17-year-old located in the guillotine and punch area tasked with cutting and preparing parts for the Mark I screener with its 6' x 3' screenbox.
At that time Seamus cut the angle iron strips in 6 metre lengths and prepared them for tacking and welding with the team producing four machines per week.
Four years later in 1975 he moved to 'Factory Two', now the main Terex Dungannon factory, and was part of the team building the new Mark II machines at a rate of 10 per week.
At the time he worked with some colleagues who went on to become exceptional Powerscreen dealers across north America - Micky Hughes, Brian Farmer, Terry Kelly and Paul Campbell among others.

During the late seventies Micky Hughes organised gaelic football matches with local teams and competitor businesses and they ended up with special tournaments that happened on an annual basis. This created great spirit and friendship within the workforce and was an incredible period of growth for the Powerscreen business.
In 1976 Seamus became a supervisor in the assembly of the Mark II machines which led to him becoming a sub-contractor in 1981. He and his team built conveyors along with Tommy Canavan (who only recently retired) for the M60 conveyor range.
At this time the volume of Mark II machines had gone to 15 per week. When Powerscreen created the Chieftain range of screeners in the mid-1980s, Seamus was given the responsibility of producing screenboxes and power units.
In 1999 Terex took over Powerscreen and Seamus remained as a sub-contractor until 2006 when he became supervisor of the power unit line, building engines for the Chieftain, Warrior and Horizon screeners.

In 2007 Seamus was again promoted to being a PAM (Production Area Manager) in charge of Sub-assembly, Health & Safety, Facilities and the Farlough factory.

After the global recession in 2010 Seamus was made Plant Manager of Terex Farlough which was by then diversifying into building wash plants as well as the largest screeners and trommels.

He was involved in establishing the new factory in Hosur, India which opened in 2010 which has become a beacon of safety and process excellence across Terex globally. Seamus spent time in India, happily educating and supporting the team as they introduced award-winning Terex manufacturing methodologies.

In 2015 Seamus became the Training Manager in Terex Dungannon and since then he has supported the Production Management team with improvement changes and as cover for absence.He was also an excellent support to those at the Terex Ballymoney site after its acquisition by Terex in 2015.
During the last year Seamie was a leader in the creation of the highly successful Welding & Fitting Academy in Terex Dungannon and, as always, he is striving for excellence with those taking part.
Unfortunately, we were limited in the number of people we could bring together for a celebration but we held a small, socially distanced meeting to show our respect and affection for this Powerscreen legend celebrating 50 years - what an achievement!