Terex MP Announces Purchase of MARCO Conveyors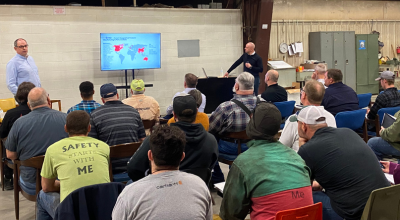 Terex MP is pleased to announce the purchase of MARCO, a manufacturer of bulk material handling conveyors, based in Mt. Vernon, Missouri.
As part of the transaction, Terex MP will purchase a 100,000-square-foot factory and office space set on a 15-acre site in Mt. Vernon, Missouri. Terex MP plans to expand the site's manufacturing capacity to support the growing demand for mobile conveying equipment in North America. The site offers a central and local distribution hub in North America while also diversifying Terex MP's manufacturing footprint and providing access to an additional labor pool. Terex will also assume responsibility for MARCO's sales and engineering office in the St. Louis area.
MARCO was established in 1936 by E.F. Marsh Engineering and has since designed and manufactured standard, stationary and portable material handling equipment such as stackers, belt feeders, hoppers, and bins. The company was the first conveyor manufacturer to design tubular-truss conveyor frames, which remain to be a signature product for MARCO today.
"This acquisition supports Terex MP's growth strategy to expand our offering in the Bulk Material Handling industries with products that complement the existing portfolio," says Pat Brian, Vice President and Managing Director for Terex Materials Processing's Crushing and Screening division. "Tubular-truss conveyor frames offer several benefits—they are hardwearing, easily re-configured and can withstand pressures of moving without bending. MARCO also produces equipment sold into the concrete industry, which will also help to expand our presence in this market."
Terex MP plans to keep MARCO as a brand within Terex MP's Crushing, Screening and Conveying division that includes Powerscreen, Finlay, MPS, EvoQuip and ProStack. MARCO will have substantial growth potential, benefiting from Terex MP's global distribution network, as well as efficiencies enabled by its global scale and investments in areas such as product development, sustainability, digital solutions, and factories of the future.