Ian & Paul Retire After 25+ Years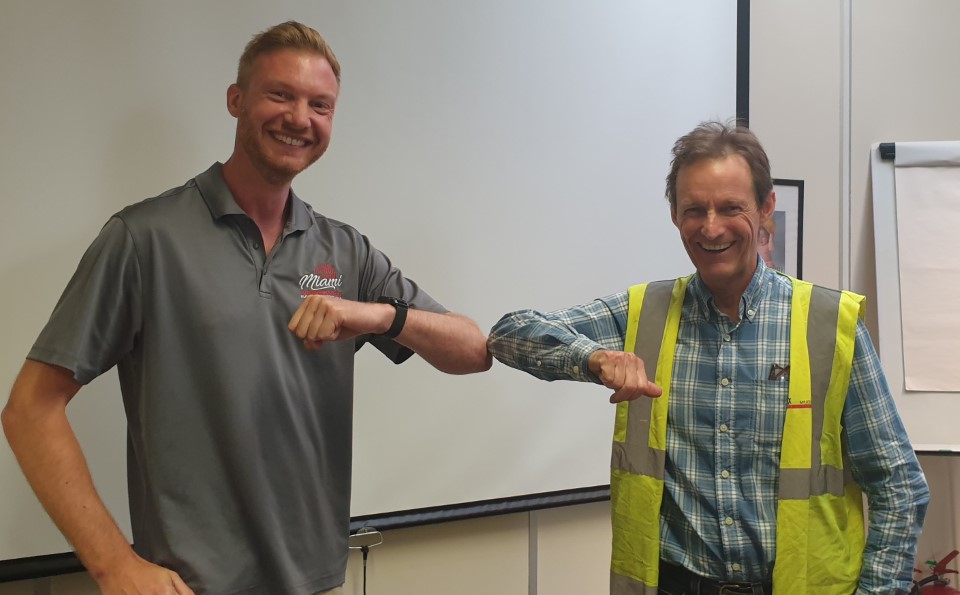 ​​​​​​​​​​​​Ian Boast, Chief Engineer, Crushers at Coalville started in October 1993 with BL – Pegson, after having spent the greater part of his career up to that point with the Coal Board. At Ian's retirement celebration, Charles Hopper, Group Engineering Manager said, "I am not sure if many of my age would agree but the Coal Board always conjures up visuals of dark smoggy scenes of a very industrial nature. However, it clearly was an excellent proving ground that developed Ian's knowledge of heavy machinery that is required to work in very challenging environments."
​​​​​​​Ian would admit that when he first joined the company, he had no real understanding of crushing equipment and became quickly aware of the challenge ahead. From failing fabricated Autocones to unreliable D styles there was significant room for improvement, to which Ian applied himself along with the team at the time. By the late nineties, the tide was turning and with Ian's innovative approach to the Maxtrak, Trakpactor and Premiertrak models, the Pegson brand was very much beginning to shine.
​​​​​​​Since then, Ian has contributed an incredible and memorable 28 years' service to the business. Charles continued, "I am personally incredibly grateful to Ian for providing the opportunity to work with him and the rest of the team. Ian has been an inspiration to all members of the engineering group over that time and while I know he will not want to take the recognition; he should be immensely proud of his achievements. We all wish Ian a long and very healthy retirement and hope that he will not be a stranger.
Charles was not the only one to pass on words of thanks in recognition of Ian's contribution to Terex, with messages pouring in from across the MP business and from former team members and customers.
​​​​​​​Kieran Hegarty, President, Terex MP said, "Ian Boast has been an integral part of Pegson/Powerscreen's success, responsible for such products as the Maxtrack and Premiertrack ranges. His design inputs have been a massive part of the growth story and global reach of this business. A genuine man with high integrity and standards, Ian has always been a pleasure to work with and will be a loss to Terex and our industry."
​​​​​​​
Andrew Dakin, Sales Director, Terex Pegson said, "If I was able to attend either of the celebration functions for Ian the thrust of my message would be to highlight the huge contribution that Ian made to the business. Together we went through one of the most turbulent periods in the company's long history. Pegson and Powerscreen were in serious financial trouble in the late nineties and our products were seriously outdated. Ian was able to produce world beating designs from the requirements I interpreted from customer feedback. The whole sales team became so proud and confident presenting these exciting new products to our new dealer network and to our customers all over the world. The designs were so well received that even our biggest competitors like Metso tried to emulate them. This itself was such a huge accolade to Ian's contribution, especially considering where we'd come from when he joined us in 1993.
​​​​​​​Despite having to deal with so many challenges it was remarkable that we never had any cross words or conflict. Whenever we faced problems or recognised new opportunities Ian, Keith and I would just sit to together calmly for half an hour or so to agree what was needed, then follow up with regular reviews until we'd achieved our objective. It worked like a dream and was demonstrated in the huge top & bottom-line growth, as well as with the two successive Queen's Awards. Despite all this success Ian has always been so modest and as a result I'm not sure he was fully recognised or appreciated for the contribution he made."
Keith Tudor, General Manager, Terex Pegson said, "The story that I can think of, which is one of folklore, is that Ian, who I think was a bit of an insomniac, actually designed the 428 Trakpactor on his laptop, in bed in the wee small hours, while his wife was sleeping next to him!"
​​​​​​​Ian Williamson, VP at Powerscreen Mid Atlantic, Inc said, "One thing I can say about Ian is that he was always available when needed. A true Gentleman for sure… I hope to see him at Hillhead next year!"

Pat McGeary, Chairman at Blue Machinery (Central) Ltd said, "28 years is excellent service with effectively the same company as it went through various changes down the years. In my dealings with Ian he was always professional, informative on his subject and prided in helping others, both colleagues and customers. Please pass on best wishes from all at Blue and the McGearys."
While Ian has contributed so much to Terex over the years, Ian personally feels he has gained as much back during his tenure here, saying in his farewell note to the team, "After nearly 27 years with Pegson, Powerscreen Group and Terex, today is my last day as I'm retiring. For someone who likes being involved with designing and making big machines, Terex Materials Processing has been a great industry to be involved in, and I count myself to be a very lucky person.

I've been incredibly fortunate to have had the opportunity to work closely with so many people from all over the world, and to feel able to call many of you friends is a real honour. I hope to keep in touch from time to time, and check what is going on in the wonderful world of crushing, but in the meantime, I'd like to say a big thank you for the help I've had along the way, and wish you all continued success in this ever-more competitive world."
Another major retirement at Terex Coalville in July was that of Paul Bingham, Machinist, who retired on his birthday (15th July) after completing 25 years employment with Terex.

Paul started in May 1996, and during his tenure has been very active in the business, being very skilled in machining and an expert in operating much of the equipment at Terex Coalville. Shane Pass, Production Manager at Terex Coalville said, "Paul never fails to help other team members, he is such a helpful team member which has always been appreciated—he has been a very valued team member here at Terex Coalville."
In addition to his more 'normal' work duties, Paul was also a Union Convenor and First Aid representative, always helping and supporting others.
​​​​​​​Additionally, spending 25 years with one company, one goes through many good times but also times of changes, and hard times too.
Shane Pass summarises, "Throughout all the changes Paul encountered at Terex Coalville over the years, Paul has always been a team player. Years ago, Paul played five-a-side football—sometimes I think it was more to make the numbers up as Paul kicked more ankles than footballs!! Paul has had many laughs, and has made many others laugh, he has guided people, shown love and compassion, and will be sorely missed by us all at Coalville. I thank Paul for his many contributions over his 25 years and wish him a long and happy retirement with his family."
​​​​​​​
Congratulations to Ian and Paul on such an incredible service to Terex, the meaningful words of recognition from others speak volumes on how valued you both were to both your teammates and supervisors—and to those outside of Terex as well.