Powerscreen HQ Wins Sustainability Award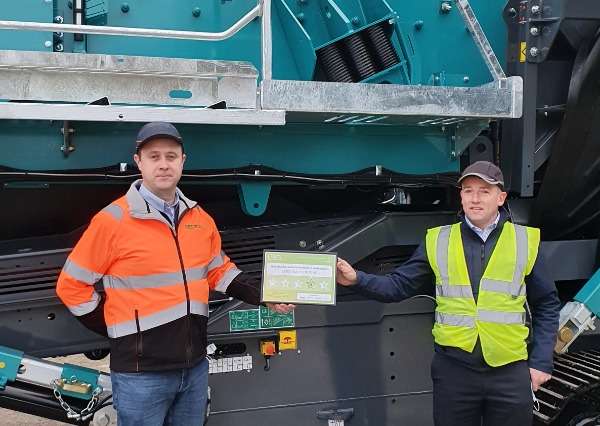 The official headquarters of Powerscreen globally, has recently been recognised in the Zero Waste Awards for its environmental practices and contribution to sustainability.
As a busy manufacturing facility, Terex Dungannon employs approximately 650 team members in Northern Ireland where machines are built for export to all corners of the world.
According to Business Line Director, Sean Loughran, "The award recognises several different aspects of environmental performance at the Terex Dungannon site.
In addition to adapting many best practices in the handling of waste over a number of years, we have invested in new equipment to minimise our carbon footprint, installed new roofing in parts of the manufacturing facility, LED lighting installations to save energy and improve lighting quality and invested in new local exhaust ventilation in our Fabrications halls to help improve air quality.
These examples and combined efforts have dramatically improved our overall environmental performance, our team member work environments and have also reduced costs.
We are very pleased to say all our non-hazardous waste handled by local recycling company, Recyco, is treated for reuse, recycling & energy recovery with Zero waste to landfill. We continue to look for and develop practices in our journey towards further reducing our carbon output.
Loughran continues, "Powerscreen has had a strategic focus on sustainability for many years. In 2021 our team presented an industry-leading seminar on the four pillars of our Decarbonisation strategy based around equipment.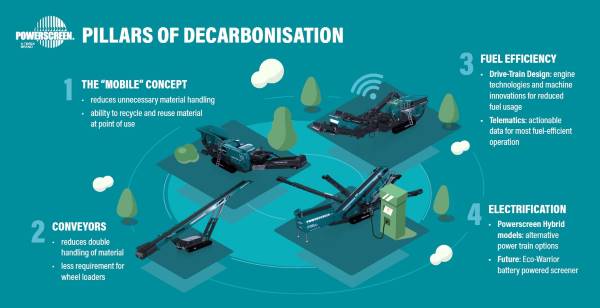 Our expert engineers continuously create more environmentally friendly solutions:
- Developing a huge range of Hybrid and Electric powered crushers, screeners and conveyors
- Engineering machines to deliver the same results while running at lower RPMs
- Designing complete solutions for recycling applications such as our new Titan Range."
Pictured is Peter Doherty, Terex Dungannon Facilities Manager along with Martin McGirr of Recyco – Martin picked up the award on our behalf at a recent Letsrecycle.com celebration ceremony in London.
Letsrecycle.com is the UK's leading independent dedicated website for businesses, local authorities and community groups involved in recycling and waste management.