Four More Legends Inducted into the Powerscreen Hall of Fame!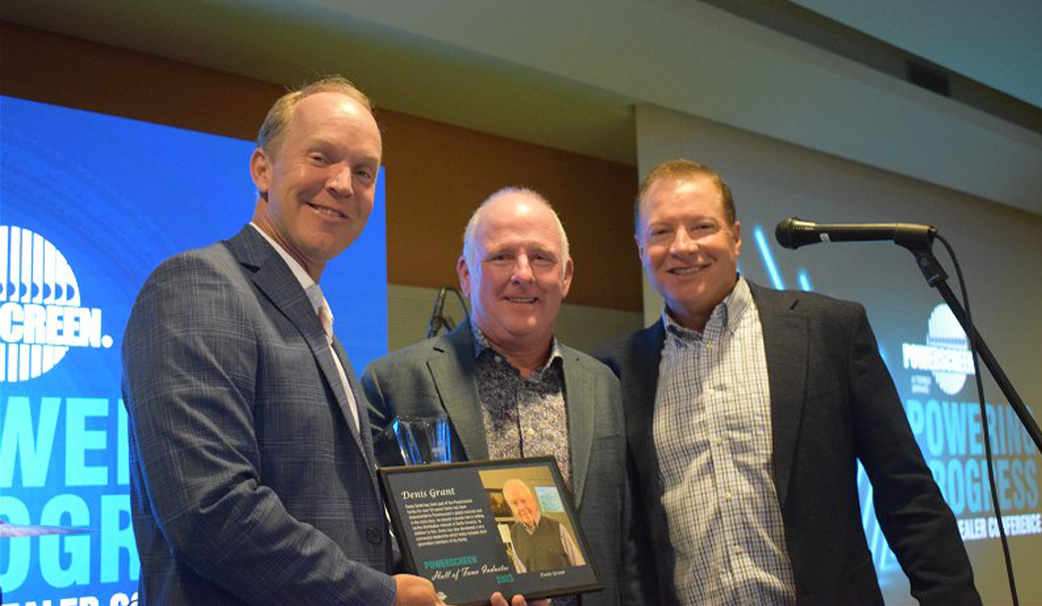 Powerscreen® - leading providers of mobile crushing, screening and conveying equipment took the opportunity at its recent World Dealer Conference to welcome four more Powerscreen legends to the brand's Hall of Fame.
The Powerscreen Hall of Fame recognizes individuals who have made an outstanding contribution to the development and success of the Powerscreen brand.
In addition to the six individuals who were inducted as part of the inaugural launch at CONEXPO-CON/AGG earlier this year, the following members of the Powerscreen family have been inducted.
Pat O'Neill (Powerscreen HQ)
The influence of Pat O'Neill and his counterparts on the crushing and screening world is immeasurable. As one of the original and founding members of Powerscreen, Pat played an instrumental role in the success of the business and helped to shape the brand as we know it today. In addition to many business successes with Powerscreen, Pat was also inducted into the Northern Ireland Manufacturing Hall of Fame in 2022 - a fitting tribute to his hard work and dedication.
Denis Grant (Powerscreen of Florida)
Denis Grant has been part of the Powerscreen family for over 50 years! Denis has been instrumental to Powerscreen's global success story and in the early days, he played a pivotal role in setting up the distribution network in North America. In addition to this, Denis has also developed a very successful dealership (Powerscreen of Florida) which today includes third generation members of his family.
Pat McGeary (Blue Machinery Central)
Pat McGeary joined Ulster Plant in 1969 as a workshop engineer and through his hard work and dedication, has established himself as a key member of the worldwide Powerscreen brand. Pat also established a very successful Dealership - Blue Machinery Central in 1992 and has helped train and mentor many Powerscreen sales team members and dealers over the years.
Paul Campbell (Powerscreen of California)
Paul Campbell has been a valued member of the Powerscreen family for over 40 years! After starting his trade at the factory in Dungannon, Paul went on to establish an exceptional dealership which is today known as Powerscreen of California, Nevada & Hawaii. In 2022, Paul's hard work and dedication was rewarded when he sold his dealership to a market-leading materials processing equipment supplier. However, he hasn't hung up his hat just yet and today you will still find Paul wheeling and dealing crushers & screens and all over the West Coast of America!
Speaking at the Powerscreen World Dealer Conference in Italy - Sean Loughran, Powerscreen Business Line Director and General Manager said "This concludes our 2022 Powerscreen Hall of Fame Inductees. These individuals from across the globe have been instrumental in making Powerscreen not only the enviable business it has become, but rather an institution that we are all incredibly lucky and proud to be a part of."