Customer Feature: Lynx Cat Mountain Quarry Operations, LLC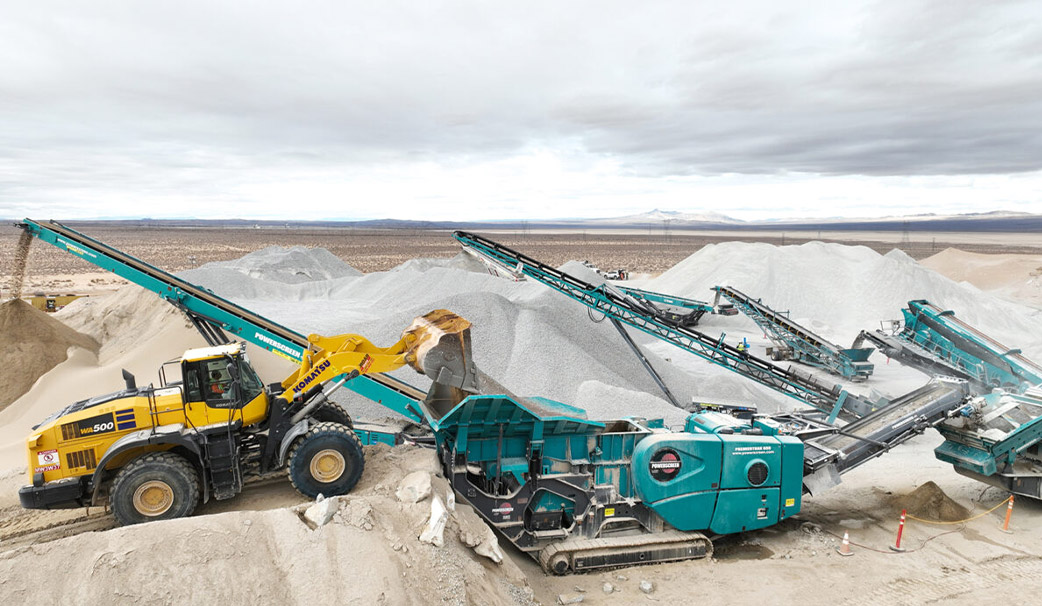 Gina Zatica is a woman with a mission. When she took over Lynx Cat Mountain Quarry Operations, LLC, in the High Desert near Barstow outside Hinkley in Southern California just over 15 months ago as President and CEO, she set out to make the company a force to be reckoned with in the industry – and to help her, she had little hesitation in making a substantial investment in an impressive ten strong fleet of equipment, supplied by Powerscreen of California, Hawaii & Nevada.
Gina is no stranger to the construction industry, following in her father's footsteps at a young age with a dream of owning her own quarrying operation, far removed from her original school studies in interior design. She quickly decided choosing fabrics and paints was not for her and began working for a general contractor before setting up Lynx Cat in October 2021. Since then, Gina has worked tirelessly to establish a good name and reputation for her relatively new business, goals that she has already achieved, serving a growing customer base by offering what she says is the best granite in Southern California.
A fully SMARA permitted and MSHA compliant quarry operation sitting on over 100 million tons of "Cal-Trans Quality" granite rock reserves, Lynx Cat Quarry is located on State Highway 58 and eight miles west of Barstow and is well placed to serve various projects at Fort Irwin, Edwards Air Force Base, the Marine Corps Logistics Base Barstow, and China Lake Naval Weapons Station as well all types of Public Works Projects across the High Desert.
The Lynx Cat Mountain Quarry team is diligent in testing and quality control. Twice monthly lab tests are performed to make sure they meet contractors' spec requirements. Ongoing testing includes sand equivalency, sieve analysis, durability, LA rattler test (per AASHTO T 96 and ASTM C131/C535), and composite sieving.
The team monitor production and quality daily—this ranges from visual inspections of products and equipment, lab tests, random sampling, and digital documentation. The possibilities for using their granite rock are virtually limitless. Thanks to the flexibility of their operations, they can offer different rock products and construction-grade materials that can fit any application. Products range from construction aggregates, ballast rock and rip rap to landscape rock, decorative rock and boulders.
"The team at Powerscreen of California, Hawaii & Nevada is super awesome, and the equipment is amazing…"
We recently paid a visit to the company's expansive site in the desert, where Gina gave us a rundown of what happens there. "As Lynx Cat Mountain Quarry Operations owner, I perform all day-to-day responsibilities to manage and control the company. I manage all financial, organizational, marketing, and quarry operations, as well as supervising the sales team and the quarry operation crew," she says, adding that the Powerscreen equipment – and the support she gets from Powerscreen of California, Hawaii & Nevada – has more than lived up to expectations.
"The team at Powerscreen of California, Hawaii & Nevada is super awesome and the equipment is amazing," says Gina, whose father owns a successful construction company where she first experienced what it was like to live and breathe the industry.
Included in the deal was a Powerscreen Premiertrak 600E, the largest jaw crusher manufactured by Powerscreen, a 1300 Maxtrak cone crusher, a 1000 Maxtrak cone crushers, a Chieftain 2200 two-deck inclined screener, and a total of 6 tracked mobile and tracked radial stockpiling conveyors. Before committing to what was a substantial financial outlay, the company took the equipment on a rental basis for a couple of months, and they haven't looked back since. One of their initial concerns was its remote location in the desert, but Gina says the support from Powerscreen's service and technical teams has been exceptional.
We caught up with Powerscreen of California, Hawaii & Nevada's Vice-President, Gary McConn during our recent visit to Lynx Cat Mountain Quarry, "This sale to Lynx Cat Mountain Quarry Operations is by far the biggest we secured in 2022. We are delighted that both the equipment and the service we have supplied to Gina and her team is meeting their expectations, and we are excited to be a strong partner to her business as we move forward into 2023 and the years ahead."
A native of County Galway in Ireland, Gary joined the Powerscreen of California team as a sales rep in 1997, to then successfully becoming a partner in the business by 2015.
Powerscreen of California, Hawaii & Nevada now part of the Molson Group, the leading UK based equipment dealer, is headquartered in Dixon, close to Sacramento. Complementing the main office in Dixon, they also have a location in Romoland, just south of Los Angeles, which serves the Southern California market. Most recently, they have opened a Nevada site located in Dayton, just outside the state capital, Carson City.
The Powerscreen Premiertrak 600E is certainly proving its worth on site; this high-performance jaw crusher is designed for large scale operators like Lynx Cat Mountain Quarry Operations. Equipped with an advanced high performance Terex chamber, its robust construction and modern design offer excellent performance, reliability and efficiency at the quarry.
From the Premiertrak 600E, the material is then fed into the Powerscreen 1300 Maxtrak, which is a medium to large sized cone crusher ideally suited to this particular application. Based around the Automax cone crusher, the plant excels in producing sub-base or aggregates, providing excellent cubicity, throughput and reduction ratios.
From the Maxtrak, the crushed rock is then fed into the Powerscreen Chieftain 2200 2 Deck, designed for operators like Lynx Cat who require large volumes of high specification products. It has two highly versatile double deck screenboxes which provide a total screening area of 19.5m2 and features a revolutionary drive system which allows switching between 2 and 4 bearing with bolt-on parts. The Chieftain 2200 operates in a closed circuit with the high performance Maxtrak 1000 cone crusher which, like the 1300 Maxtrak, also benefits from the Automax cone crusher technology, while hydraulic release capabilities ensure that any un-crushable material entering the chamber is safely discharged.
"Our goal is to produce products that will consistently meet or exceed our customer's specifications, and we are successfully achieving that, thanks to our investment in the Powerscreen equipment. The people at Powerscreen are friendly and reliable and they always have parts available if and when we need them."
While the company has quickly made a name for itself, it is also leading the way in other areas of the industry…
While the company has quickly made a name for itself by providing high quality products, it is also leading the way in other areas of the industry. Last year, it was awarded official certification for Lesbian, Gay, Transgender and Bisexual Business Enterprises (LGBTBE), Minority Business Enterprises (MBE) and Woman Business Enterprises (WBE), the first aggregate supplier in the state of California to obtain this certification which will let Lynx Cat Mountain Quarry Operations help state agencies meet new LGBTBE goals in California.
The company is now eligible to participate in supplier diversity programs. These are for road builders, utility companies and transportation contractors, as well as local government and state agencies. Many of these organizations have specific LGBTBE, MBE and WBE goals to meet.
"I am excited to receive these certifications," says Gina. "Certification is important because it helps the construction industry see the value that Diverse Businesses bring to the marketplace. LGBT women and minorities have historically struggled to break into this industry. I am honoured to be the first aggregate supplier to obtain California Public Utilities Commission's LGBTBE certification."
For more information on Powerscreen California, please visit: https://www.powerscreenofcalifornia.com/
Article Credit: Awesome Earthmovers