FP McCann Seek Sustainability -Chieftain 2100XE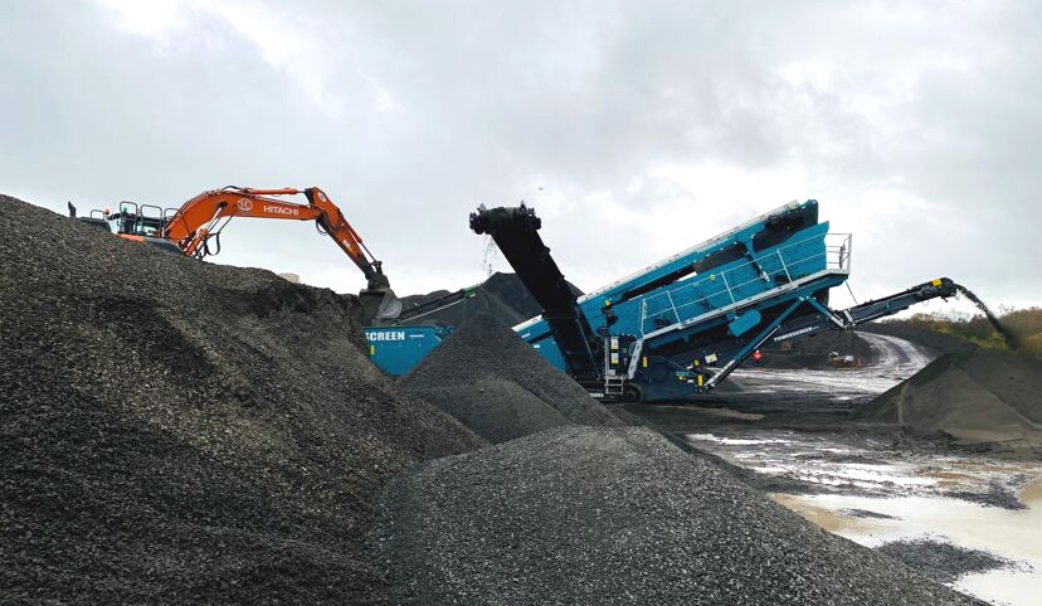 Powerscreen® - leading providers of mobile crushing, screening and conveying equipment made an impression at this year's Hillhead exhibition, with the working debut of its Chieftain 2100XE.
As an extension of the Powerscreen Hybrid range, 'Transport Engine' machines such as the Chieftain 2100XE use a small engine for hydraulic tasks like tracking and folding conveyors, while plugging in to an external power supply (mains electric, generator or another machine) for the processing of material.
One company that has shown a keen interest in this technology is FP McCann – who supply a wide range of aggregate products to the construction industry throughout the UK & Ireland. As part of their growth strategy and commitment to sustainability, FP McCann have been trialling the Powerscreen Chieftain 2100XE at one of their large quarry operations in Northern Ireland.
Chris McCloy, Regional Quarry Manager at FP McCann said "The adoption of new technology across the quarrying sector has been extraordinary. Innovations such as the Chieftain 2100XE ensure we are well placed to deliver on our sustainability efforts while incorporating increased efficiency, accuracy, and safety. This is in line with the company's efforts to achieving net zero by 2050."
Benefits of Transport Engine Machines
Eco-Friendly – Electric powered machines are less harmful to the environment than conventional fuel driven machines.
Efficiency – As well environmental benefits, these machines are more cost effective to run and therefore provide operators with a lower cost per tonne.
Reduced Maintenance – There are less serviceable components on small transport engines in comparison to standard engines which reduces maintenance efforts.
Increased Productivity – Less time spent fuelling and servicing the machine helps to maximise uptime and increase output.
Improved Access – Electric powered machines can work on sites where traditional machines cannot. Examples of this include tunnels, areas beneath the weather table and city centres with zero emission policies.
Versatility – Transport engine machines can be powered via another machine i.e a crusher or via direct electric plug into mains electricity or generator.
Neil Robinson, Product and Applications Manager at Powerscreen said "It's great to see forward thinking companies like FP McCann embracing the latest technology in crushing and screening. We now have 5 machines in the Powerscreen range that are transport engine ready and we will continue develop our product offering towards a more sustainable future."
For more information on Powerscreen– please visit www.powerscreen.com
For more information on FP McCann – please visit fpmccann.co.uk